Tales of the Walking Dead - en streaming
Returning Series
1
Seasons -
6
Episodes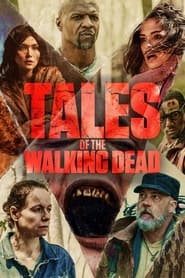 Intrigue complète et informations sur Tales of the Walking Dead
Tales of the Walking Dead streaming, Tales of the Walking Dead est une série d'anthologie épisodique. Chaque épisode raconte une nouvelle histoire sur les aventures de différents personnages au milieu de l'apocalypse. Alors que les morts-vivants marchent sur la terre et chassent les vivants, les gens partout luttent jour après jour pour leur survie.
Contexte & informations sur Tales of the Walking Dead
La série d'anthologie Tales of the Walking Dead est un spin-off de la série dramatique d'horreur The Walking Dead, qui est elle-même une adaptation des bandes dessinées The Walking Dead de Robert Kirkman, Tony Moore et Charlie Adlard. Tales of the Walking Dead est déjà le quatrième show de la franchise de séries TWD, après The Walking Dead, Fear the Walking Dead et The Walking Dead : World Beyond.
En septembre 2020, il a été annoncé que Scott M. Gimple, le directeur du contenu de la franchise The Walking Dead, développait depuis un certain temps une anthologie épisodique visant à développer le monde de l'univers TWD.
En octobre 2021, la chaîne AMC a passé une commande officielle de série pour le projet prévu, pour une première saison de six épisodes au total. Le poste de showrunner sera occupé par Channing Powell, qui a écrit par le passé des scénarios pour The Walking Dead et Fear the Walking Dead.
Le tournage de Tales of the Walking Dead a débuté en janvier 2022 en Géorgie. Les réalisateurs de la première saison sont Michael E. Satrazemis, Haifaa Al-Mansour, Tara Nicole Weyr et Deborah Kampmeier. Satrazemis a réalisé au total trois des six épisodes. La première de Tales of the Walking Dead a eu lieu le 14 août 2022 sur AMC et AMC+.